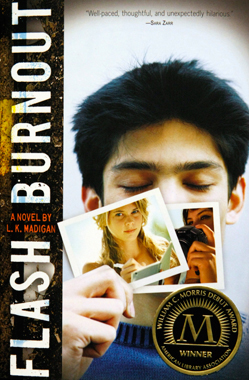 Flash Burnout, by L.K. Madigan. Boston: Houghton Mifflin, 2009. ISBN-10: 0547194897; ISBN-13: 978-0547194899. 332 p.
Plot Summary
Fifteen-year-old Blake must figure out how to navigate his relationships with his
girl
friend and his girl
friend
. Shannon loves him, but Marissa needs. him. He has a loving, warm family who supports him, but Marissa's dad is in jail and her mom is a meth addict. How can he be her friend without making Shannon jealous?
Critical Evaluation
Blake's voice sounds authentically like a teenage boy's, from his occasional IM-speak to his obsession with sex. His understanding of Marissa's difficult life situation seems very true-to-life. Blake's strong, unique voice will appeal to any boy--or girl--who is learning to navigate the waters of love and lust.
Reader's Annotation
Blake learns the difference between lust and love as he navigates his relationships with his
girl
friend Shannon and his girl
friend
Marissa.
Author Information
Born and (mostly) raised in Los Angeles, Lisa K. Madigan lives in Portland, Oregon, with her husband, son, and two big black dogs. Her second novel, a fantasy called
The Mermaid's Mirror
, is scheduled for a Fall 2010 release. She likes to travel, ride her bike, and take photos. More information can be found at her website:
http://www.flashburnout.com/
.
Lisa describes
how she began writing teen fiction:
"
During college and throughout my twenties, I tried my hand at "literary fiction," writing a coming-of-age novel and some short stories. Then I got busy with life, and writing took a backseat. After I had my son, I started reading children's books. I fell in love with them … so deceptively simple! I took a summer class in Writing for Children, thinking I wanted to write picture books and easy readers. But I couldn't stop thinking about an idea I had for a novel – about a girl surfer and a mermaid. I started writing the story, and it felt so right. I always felt a kind of self-consciousness when I wrote adult literary fiction – writing for a younger audience just flowed. I was able to lose myself in the characters completely."
Genre
Realistic fiction: school, friendship.
Curriculum Ties
Sociology/social work: the consequences of meth addiction
Booktalking Ideas
For his photography class, Blake took a picture of an addict on the sidewalk. It turns out, it was his friend Marissa's mom! What would you do if you were Blake?
Reading Level/Interest Age
ATOS Book Level: 3.5
Interest level, grades 9-12.
Challenge Issues
Teenage sexual activity.
Mild language.
I included this book because YALSA selected it as one of its
2010 Best Books for Young Adults
. It also won the ALA's
William C. Morris YA Debut Award
in 2010.