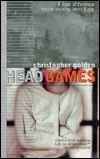 Head Games, by Christopher Golden. New York: Simon Pulse, 2000. ISBN-10: 0671775820; ISBN-13: 978-0671775827. 256 p.
Plot Summary
In this novel from Golden's "Body of Evidence" series, Jenna Blake, assistant to the local pathologist, has returned home from her first semester of college for the Christmas break. She is horrified when three high school friends brutally murder their entire families. The police are leaning toward the idea that these teens were influenced to kill by violent video games, but as she investigates, Jenna begins to believe that someone is playing sinister head games with her classmates. Can Jenna solve this mystery before disaster strikes again?
Critical Evaluation
Golden is good at both writing the clinical details of an autopsy and creating believable relationships between Jenna and her friends. While the danger to Jenna never feels quite real in this volume, it's still interesting to follow the conclusions she comes to as she draws closer to solving the mystery. Perfect for fans of TV shows like
CSI
and
Bones
, as well as any teen who enjoys reading a good mystery.
Reader's Annotation
Three of Jenna Blake's high school friends have brutally murdered their families. Can Jena find out who drove them to murder before another victim dies?
Author Information
Christopher Golden published his first book in 1992--a non-fiction pop culture book called
Cut! Horror Writers on Horror Film
, which won the Bram Stoker Award--and has been a full time writer ever since. At the time of his first book sale, he was 25 years old and writing for
Billboard
magazine in New York, but moved back to Massachusetts with his wife once he started working as a writer. In an
interview
with Cynthia Leitich Smith, he shared that he loves writing YA books because "kids and teens are so much smarter and wiser than they're often given credit for, and writing for that audience is a way for me to both communicate with younger people and to let them know that
I
don't feel that way, that they have my respect."
Golden has written in a number of different genres, including mystery, horror, thrillers, and fantasy, and has also published non-fiction pop-culture books, video games, comic books, an online animated series, and a movie script. Along with his YA books, he's also known for writing novelizations of popular works, including
Buffy the Vampire Slayer
and the novelization of Peter Jackson's
King Kong
. He writes more about his love of pop culture in an interview at
Wondrous Reads
.
Golden can be found on the web at
http://www.christophergolden.com/
.
Genre
Mystery
Curriculum Ties
Medical fields: pathology
Psychology: subliminal messaging
Booktalking Ideas
Read the passage where the first boy opens his Christmas presents and then kills his entire family--a great hook into the idea of the book.
Reading Level/Interest Age
Grades 9-12
Challenge Issues
Graphic gore
Detailed descriptions of autopsy procedures
I included this book because both Pam Cole (
Young Adult Literature in the 21st Century
) and Diana Tixier-Herald (
Teen Genreflecting
) recommend this series as a good set of examples of the mystery genre.