Little Brother, by Cory Doctorow. New York: Tor Teen, 2008. ISBN-10: 0765319853; ISBN-13: 978-0765319852. 384 p. It is also available as a free download, under a
Creative Commons Attribution-Noncommercial-ShareAlike license
, at Cory Doctorow's website,
Craphound
.
Plot Summary
After a terrorist bombs the Bay Bridge in San Francisco, Marcus and his friends are apprehended by the Department of Homeland Security as possible terrorists. After physical torture and psychological stress in captivity, Marcus and most of his friends are released. Marcus then starts an underground campaign to overthrow the corrupt government agency that is determined to reduce civil liberties in the name of protection against terrorists.
Critical Evaluation
Doctorow's allegory of post-9-11 America can be heavy-handed at times, but is still eminently readable. In the days of enemy combatants and Guantanamo Bay, the story seems especially relevant. However, Marcus is almost preternaturally culturally aware, and the book reads almost more like a newspaper editorial than a novel. Doctorow goes off onto tangents about RFID tags, cryptography, and public key exchanges that may confuse the less technologically-minded reader. Despite this,
Little Brother
is a compelling read.
Reader's Annotation
What if your government was making your life
less
safe? That's exactly what happens in San Francisco after a terrorist blows up the Bay Bridge. Can a 17 year old and his online friends take on the DHS?
Author Information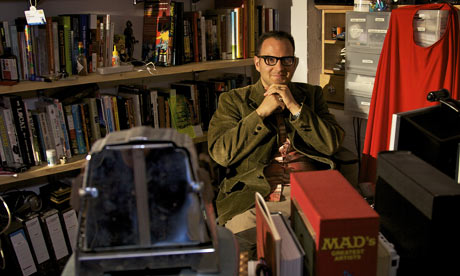 Cory Doctorow is a science fiction author, blogger, and activist. Born in Toronto, Canada, he lives in London. He is the co-editor of the popular website
Boing Boing
, the former European director of the
Electronic Frontier Federation
, and co-founded the UK Open Rights Group. He blogs at
craphound.com
.
Doctorow is in the minority among writers because, although his books are published as hard copies by Harper Collins UK and Tor Books, they are published simultaneously online under Creative Commons licenses that encourage their re-use and sharing (
source
).
One reason he publishes his work online
is that "the electronic book is more often an enticement than a substitute. The problem of authorship is not piracy but obscurity. And people don't read long works on screens if they have the choice, not because screens aren't good enough but because computers are too distracting. Doing anything for more than ten minutes in front of your computer is really hard. I don't buy that screens are hard, because otherwise people wouldn't play World of Warcraft for 20 hours at a stretch or read their Email for 20 hours." His popularity is a testament to the fact that the paradigm of publishing really is changing and that online models of distribution can be successful.
Genre
Science fiction: cyberpunk
Curriculum Ties
Computer science: hacking, surveillance, RFID technology
Math: cryptography
Civics: First Amendment rights, privacy
Booktalking Ideas
If you were arrested for terrorism and you were innocent, how would you react? What if you could change the country through hacking and internet use?
Reading Level/Interest Age
ATOS Book Level: 5.9
Interest level, grades 9+
Challenge Issues
Language.
Sexual content.
I included this book because we were already reading it for class, and I thought it would be interesting to have a record of my own annotations before the class discussion.