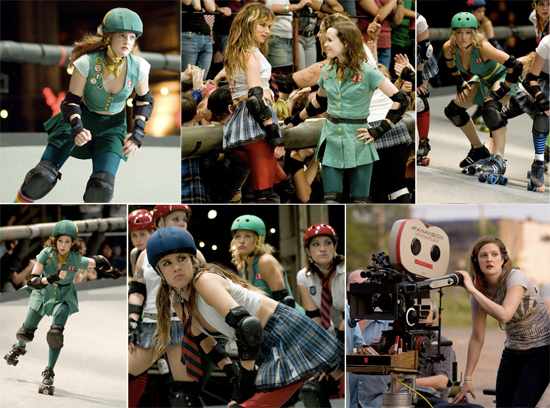 Whip It. Written by Shauna Cross; directed by Drew Barrymore; starring Ellen Page, Marcia Gay Harden, Kristen Wiig, Juliette Lewis. 20th Century Fox, 2009. 111 minutes. Image credit:
Slashfilm.com
.
Plot Summary
Bliss Cavender lives in the podunk town of Bodine, Texas, and thought she's busy waiting tables at a diner and competing in the beauty pageants her mother loves, she dreams of getting out. When she sees her first roller derby match, she falls in love with the sport and tries out for a team--and she makes it. As she excels at roller derby, she must find a way to negotiate between her parents' wishes for her and her passion for roller derby.
Critical Evaluation
Ellen Page's soft-spoken, sweet Bliss Cavender makes a believable transformation into the tough, no-nonsense Babe Ruthless (her stage name).
Whip It
avoids a trap that many teen movies fall into--making the heroine's journey all about getting the guy. Instead, Bliss seeks acceptance by her parents of something she loves, something she's really talented at that gives her power over her life. By not giving up on her dream, bliss becomes a role model for girls to emulate as they follow their passions. Roger Ebert
reviewed
it positively: ""Whip It" is an unreasonably entertaining movie....Yes, the movie has cliches. Yes, it all leads up to a big game. Yes, there is a character's validating appearance near the end. Yes, and so what? The movie is miles more intelligent than most of the cream-of-wheat marketed to teenage girls. Funnier, more exciting, even liberating."
Viewer's Annotation
Bliss Cavender fell in love with roller derby the first time she saw it, and now she's on a roller derby team. But when her parents find out about her new passion, will she still be able to play?
Author Information
Shauna Cross, the screenwriter for
Whip It
, has said that she's inspired by "all the "girl writers" working these days: "It's completely badass," she says. "I root for the girls. I'm a total girl's girl."" (
Variety
). Shauna plays roller derby, just like Bliss Cavender, and wrote a YA novel--
Derby Girl
, on which
Whip It
is based--to dramatize the experiences she had while competing. While the story isn't strictly autobiographical, Shauna does have experience with both beauty pageants and roller derby, and she has said that "the juxtaposition of the beauty pageant world and the roller derby world was really fascinating to me because they both represent two extreme ideas of femininity. One is about perfectly coifed physical perfection, but when you look closer, it's actually kind of brutal, I think. While the other is anarchy and bruises, and yet, it's the most female-empowering thing I've ever experienced. It's like plastic sexy versus real sexy" (
Film School Rejects
).
Whip It
is her first major screenplay.
Genre
Film
Curriculum Ties
Sports: roller derby
Booktalking Ideas
N/A
Reading Level/Interest Age
PG-13 rating. Of interest to any viewer capable of handling PG-13 content.
Challenge Issues
Disrespect for parents. A complete listing of sexual content, violence, and language can be found at the website
Kids In Mind
--encourage parents to check this website out before viewing a movie if they are sensitive to content issues.
I included this film because I love the actress Ellen Page, and I was interested to see what she would do after her breakthrough role in
Juno
.